Complete or Partial Fleet Replacement
At RUSH Transportation & Logistics, we offer complete and partial fleet replacement for any of your distrubtion requirements. We can take on the operation of your transportation fleet with our equipment and experienced drivers.
Our experienced Service Managers will customize a program to meet the distribution requirements of your business, as well as your customers.
Multiple options are available to create a seamless extension of your company including:
Equipment acquisition.
Use of your company's uniforms and logos.
Employment of your company's displaced drivers or staff.
Our staff is trained to accommodate your unique business needs. Various vehicle sizes and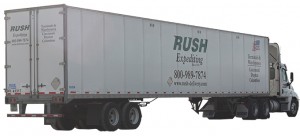 distribution lanes allow RUSH to compete with less-than-load (LTL) carriers by offering earlier next-day delivery. We will custom design early morning delivery, or delivery to meet specific time or distribution deadlines. Our goal is to become an extension of your business – your distribution partner.
At RUSH, we will eliminate the headaches associated with operating your own fleet. RUSH will provide reliable, uninterrupted service that allows you to concentrate on your core business.
Illness, vacation, vehicle maintenance, insurance, worker's compensation and driver turnover will no longer be issues when you contract with RUSH. Your business does not stop for the unexpected, and neither do we.