Expedited freight services from RUSH ensures your project stays firmly on schedule.
At RUSH, we do whatever it takes to deliver your time sensitive shipments. Whether you need goods shipped across town or across the country, our expedited freight services can plan and execute your delivery in the most timely manner. Our experienced Customer Service Representatives will match your load to the most cost effective vehicle size.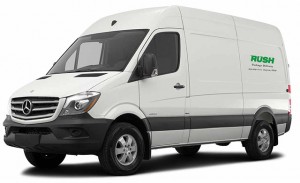 Quality Expedited Freight Services
We will professionally handle your shipment from start to finish, 24 hours a day, 7 days a week. Our expedited freight services are designed for your peace of mind. For shipments over 100 miles, our personnel will perform the following critical tasks: 
Call, e-mail, or fax to confirm pick-up and ETA.
Proactively report any delays en route to destination.
Call, e-mail or fax shipper within 5 minutes of arrival with proof of delivery.
All of our vehicles are equipped for communications and safety. RUSH is licensed for operation in all 48 contiguous states. We will expedite your shipment to its destination, ON TIME and SAFELY! We cut out all wasted time and get the goods where they need to go. Whatever it takes!